Welcome to High Sierra Quilters Hall of Fame. This is the place to show off your completed sewing and quilting projects, for all the other quilters in the Cyber world to see and enjoy. Bring in your quilt top or finished project and we'll take a picture and with your permission, include your photo as well. This is a great place to see what others in the quilting community are doing.
Here's our Row by Row winner and her quilt for 2017. Sharron Luck was first in with a completed quilt! For all of her efforts, Sharon won a box of 48 coordinated fat quarter blenders from Quilting Treasures. Welll done Sharron!
Here's a really nice piece by Sandy Weber. She took a photo of a wolf that was recovering in a facility in Wash. Then sketched it out and put some fabric to it. Well done Sandy! PS...she and her husband Dennis are vintage trailer people as well.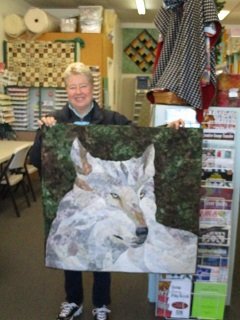 This is the latest from Barbara Paddock. This is one large quilt! Really a nice one! I love the blue and white!
Here's the latest from Julie Keeler. It's called Celtic Solstace and was a 2014 Bonnie Hunter mystery. Julie is really a busy quilter, with many of her creations being donated to worthy causes. Good job Julie!
Cheryl Ringer recently finished up this one. It uses a lot of the newer yellow and blues from the Summer Breeze III collection. A really nice bright spring like quilt Cheryl!
Susan Rodman completed this really nice flannel quilt. It's using the "A little off kilter" pattern and some flannels from our collections. It's a real warm one. Debbie Cognata did the quilting on this one. Susan made it for her gardener/handy man. He's one lucky guy Susan. Well done!