1947 MobilGlide Globetrotter project
updated 6/15/16

Last summer one of my camping buddies had mentioned that his brother had an old trailer sitting on the family ranch. It was currently full of old farm junk and tires, but he thought that he might sell it. I went over to see it in Kelseyville last weekend (3/16/14). I didn't think twice about getting it, although I had no idea on the make or model of it at the time. After some time on the Tin Can Tourists site, which is the oldest group associated with automobile type camping back to 1919, 2 different people confirmed that it was a 1947 MobilGlide. At the present time there are only about 20 that are known to exist. Since it has the interior gutted on it...it's a perfect carcass for me to start a new camper build on. This style of trailer is called a "bread loaf". I was hoping for it to be a pre-war trailer, but I'm going to be a happy camper with this one. Stay tuned for further progress as I attempt to turn a sows ear into a silk purse. Progress will more than likely be slow through the summer...and I need to figure out how to get it in the garage, as it's too tall for the door.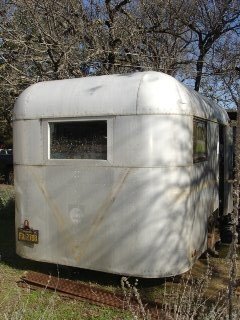 Here's the update on the current project as of 7/24/14

I have the new frame build and ready to deck. Cindy White and the good people over at North Machine shop took care of me on the iron for this project. Cindy is a customer here, I buy her iron, she buys our fabric! I figured that I should build a new frame as the existing one has been repaired a number of times, is 67 years old and actually just plain beat! Today's highway speeds demand more in a vehicle frame than what was required back in '47. It will be nice to have a new axle hanging in it. I also had some custom "artillery" wheels made for it as well. They were all the rage back in the late 30's. I like them as they add a vintage appearance to a project.




Currently the existing trailer is jacked up and resting on jack stands, the body mounting bolts have been cut and the trailer body has been raised a bit. It's now all loose and ready to lift. After I get the new deck built for the trailer frame, I should be able to lift the old body and plop it down on a new frame. It is heavier than I had anticipated, Airstreams can be done with a couple of people, but I believe that I will be using some jacks and bracing to make this switch.




Update for 11/18.
It's been a while since I posted an update. Well, no progress was being made...at any rate, now it is and will probably move along quite well this winter. I got the frame decked with a plywood sub floor. I had the wheels made by Wheel Smith in Santa Ana. They are called artillery wheels, and were typical on vehicles in the mid 30's. I've always liked that look.




I lifted the body from the existing frame and blocked it up. Rolled the old frame out from under it and dropped the body on the new one. Surprisingly, it all fit pretty well.




After the body was on the new frame, I cut the front of the garage a couple of inches so that it would fit in. I can't do this work outside in the winter. I also replaced about 200 rivets in the roof. It had opened up and there was a lot of water intrusion. It might as well had a piece of window screen up there. Hopefully, it's all taken care of now.




Once inside, I only have maybe 18" of work space on the roof of the trailer, but most of the work will be on the interior now.




First up, I cut out the damaged corner. At some time, this trailer took a hard hit and it had suffered some damage. I tried to straighten it all out, but honestly, it didn't look good at all. I took a circular saw and cut the aluminum, and drilled out a load of rivets. Once removed, I slipped in a new piece and riveted it all up. It'll look fine once I get it all painted.


Here's what I decided to do for a screen door. I figure that a screen is such a nice large area that is just begging for something like a design element. The windows and the screen door are to be screened in copper screening. There was no screen door on this trailer so I built a steel frame and fit a new screen and door into it. It's much more solid now.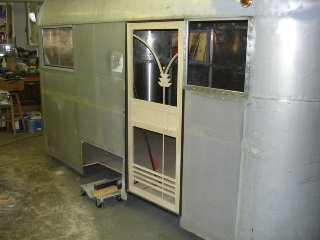 I now have all the body work done. Many of the small dents are taken care of, many got left, I guess that's what gives it character. It is, after all, a nearly 70 year old trailer. I got the roof primed and into the cream colored paint.




The rest of the body was primed and I shot the green paint. These colors are very close matches to a 1947 Chrysler color. I think they really give it a "vintage" feel.




I also managed to score a vintage 1950 propane tank. A whole lot of work and it's now presentable. This style tank was typical of the era and they are a very desirable addition to a trailer. A thin black line will go between the green and the cream color to help separate them.

I have a friend that did the art work on my logo. I sat in the driveway, when the sun hit it just right and was able to see the ghosting from the original logo. It took many hours to pencil it all in, but once it was done, by buddy drew it up, and I had it cut in vinyl. It now has the "official" logo on the front and rear.




Last weekend I managed to get all the clearance lights on it and the brake/turn lights on the rear. I also got a 1947 California trailer tag and it was clean so I could get it registered to this trailer. Another + to have.




This weekend I should be able to get a fair amount of the wiring done. Then it's start insulating and beginning the wood work on the interior.

I managed to get it all insulated and wired. I have also skinned the interior with some 1/8" birch paneling. The tough part was finding 13 sheets of material that roughly matched each other. It's finished with 4 coats of Varathane so it's plenty durable.




The cream end cap with get a cabinet that goes the full width of the trailer. Same for the rear of the trailer. This is the front end in this photo.

Here's the look I am going for on the cabinetry. It's a rail and stile type cabinet in birch with a birch inset panel. The doors are in mahogany framing with a birch inset panel and mahogany deco type details. I've found some nice nickle plated deco type hinges and jadeite door pulls for the interior.




Both of the upper cabinets are now finished and ready for final install. I have also gotten the screen door finished and screened in copper. Also have built the door side cabinet with 2 drawers and a lower cabinet that will house the electrical panel and the alarm system that I will be installing. The floor is down, it's the original Marmoleum. That's the type of flooring that they had back in the 30's. It's bullet proof and won't mark like a vinyl flooring will.




I have also started the galley framing. The original ice box has been restored, the frame is built and the drawer and door fronts. I found some really nicely figured birch for the framing that will really show off once it's got some finish on it.




I've finished up the galley, and have it now temporarily installed in the trailer. This weekend, I'll do the final install and get it plumbed and wired.




I used a sheet of aluminum and did a random scuff on it with a grinder and then shot some automotive clear coat over it for the back splash. I wanted something with a bit more style than just the same old aluminum or stainless. I also cut up some 1/8" aluminum and fashioned my own spice rack. I have a group of vintage spice jars that are in the Fire King Jadeite. That was typical of the era.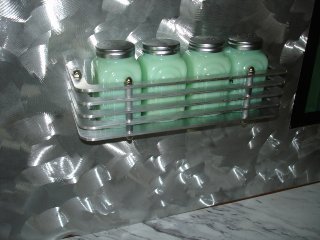 I also managed to get both the front and rear upper cabinets finished and installed. Glad to get that all done as hanging the cabinets is a real challenge when mating to a curved surface.




In the front cabinet, I am going to install a CD AM/FM receiver. It will be hidden so that there will be no modern electronics visible. I fabricated up my own speaker grills and found some vintage speaker cloth from the late 40's to back them up. I think this has a great look of 1947.




I've been really pushing hard on getting this project finally wrapped up and at least for it to the point that I can say that all the interior woodwork is completed in 2015. Last weekend I finished up the interior, outside of connecting the gas lines and making the final electrical connections on the fuse block. It's all in birch and mahogany and finished in a semi-gloss varathane. The interior finish should be very durable. I also found a nice piece of art to hang on the interior. It's a water color print of a Northern Pacific train in 1935 near Mt. Ranier. My grandfather was an engineer for the NP in those days, so that's for you grandpa! He would have enjoyed this trailer as he liked camping and the outdoors.




This weekend, New Years Day, I plan on getting the cargo door installed, the outside door finally hung and the electrical connections. It's getting close now. I am also currently making my own cushions for the dinette...we'll see how all that goes.

I finished up this trailer the first week of February. Now I need to wait till first couple of weeks in May to pull it out of the garage. It still needs to have the axle finally bolted up and I also need to install the roof vent. I can't do that now as it won't be able to come out of the garage with that on. I sure am glad to have this project to this point. Here are the latest pictures on it's progress. Once I pull it out of the garage, I'll be able to get some pics of it with the wheels on it, and I'll be able to get back a bit to take some pics. It's hard when it's just sitting in the garage. The only item that I paid to have done on this was the awning. I'm really anxious to pull it out of the garage now.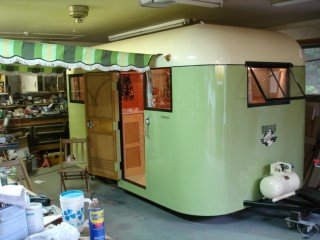 The weekend of the 11th I took the MobilGlide out on it's maiden voyage. I always get a bit nervous when taking out a new trailer for the first time. Did I miss a weld? Is the frame aligned, is it balanced correctly? I must have done everything just fine as this one was a dream to tow. I had only gone 9 miles when someone took it's first picture on the road. We had a group of probably nearly 50 trailers that went up to Fallen Leaf Lake. I'm a happy camper with it, sleeps just fine, and not an issue with it at all. Now to spend some time enjoying it and maybe cook up my next project...oh wait...I already have one. I need to finish up the house after the tree hit it this last Feb.


Trailer project (Kamp King) update:11/12/13
I recently came home from a camping trip to find a note stuck on my back door. It basically said, "come and get it". This neighbor recently had a turn of events that changed his life and this was not going to get done. I dragged it home, took some pictures and rough measurements....it'll be perfect to build a new trailer from. It's very rough and the wood has rotted out in many places. It's basically a parts trailer at this point. Hopefully, next weekend I'll clean out all the stuff inside and see what I really have to work with. He had removed most of the interior and just put the parts back in. Hope most of it's there, the stove, ice box, sink, water tank etc....are.

Yes, I know...it's not much but from this sows ear eventually will come a silk purse!





I stripped off what I will re-use, then junked the rest of the trailer. The weekend after I got it, I had it stripped down to the bare frame. It needed a new tongue on the frame and many new parts in the axle but that is all done now. All I need to do is a small bit of painting on the frame and it's ready to start building anew on. I also got some used wheels from my nephew along with some 1970 police car hub caps. The wheels will be painted a yellow. I have my color board all put together on this project. Chrome yellow, charcoal gray and high polished aluminum on the exterior.
I've finished up the frame modifications, fabricated the new floor and got it painted and installed. I've also got the galley started. A cooler will slide out from under the counter top. The existing ice box that was in this trailer is in very poor condition and it's been my experience that a cooler will keep ice much longer.
I've now gotten the wheels painted the correct color, the marmoleum flooring down, which really gives it a nice "vintage" appearance. Also completed is the galley and the small cabinet on the opposite wall. I need to make the drawers/doors for both, but did get them painted and the "boomerang" patterned formica laminated to the top.
I have now gotten all the drawer and cabinet doors done, did a little pin striping on them in a black and gray. Magazine rack on the bottom of the cabinet with the 2 drawers in it. I also got the bed support and rear structure finished. I have a lot of little details that I need to complete before I start on the sides.
I've gotten both walls made and speckle painted. This is a technique that was common on a lot of trailer manufacturers in the early 60's. How I do it is to roll the wall with the background color. Then take a small whisk type broom, dip it into some contrasting paints...in this case black, charcoal and mustard yellow. Then I pull the brush bristles back through my fingers to flip paint spots all over the sides. It's tough to wrestle these walls around the garage by myself, so I had a buddy come by and in about 20 minutes had both up. Now I can go through and do a lot of other things. Getting these up was a big step. Also shown is a photo of what the backsplash on the kitchen counter will look like. It's a vacuum formed piece of plastic with a metallic finish on it. I like the deco appearance.
In case anyone is wondering....no, it won't fit out the garage door as is! I will need to take the axle and springs out from under it and weld on some casters to get it out the door.
I've gotten the front dinette built and the first piece of the ceiling skin installed. I also managed to at least get the cabinet over the galley built and 5 of the 7 windows restored. Interior cushions are being done now as well as the awning, which will have a scalloped edge with fringe on it. I'm still waiting on Moda to ship the Comma fabric for the curtains and the quilt.
I finished the table, the top is covered with that "boomerang" type formica that we all used to have in the kitchen back in the 50's. Cushions are ordered from my awning lady. The table will fold down and become a bed using the cushions.
I got the overhead cabinet done for the front of the trailer and installed. I also got up at least 1 piece of the ceiling as well. The windows at this point are just sitting in place but are restored and ready. I made a "retro" hummingbird as a center piece on the front cabinet. Just helps to break up that large blank space.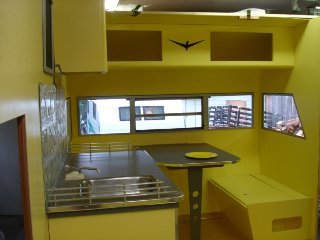 I've gotten the entire ceiling installed and all but one last piece on the rear of the trailer. The steel door frame is made up and welded and have the screen door pretty much ready to glue up and paint. Although not shown, I also got it all wired for the 12 volt interior lights and the running lights all wired up.
I almost forgot...here's the quilt that will be going in this trailer. I am also going to make up all the curtains out of this fabric. It's called
"Comma" from Moda.
The entire trailer is now enclosed. Most of the 12 volt wiring is completed and the running light wiring is done. Last weekend I spent working on the door. What makes this difficult is that I really have nothing to work from. I create the door from the jamb out. I get some sheet metal bent into the shape for the jamb, cut it to length and weld it up. Then I have to build 2 doors to fit inside the opening. 1 is the exterior door and the other is the screen door. They both use the same hinge so it takes some modification to make that all work. I used some of the leftover boomerang formica for the center of the door where the slider is. This door will be painted a light yellow and screened with black screen material. Exterior door not shown. Hopefully I'll get the door finished up this next weekend and get some of the body insulated and sheathed in thin plywood.
Here's what I managed to do this last weekend. I got the rest of the 12 volt wiring done, got it all insulated and a couple of pieces of the sub skin installed. The rest of the time was spent working on the door and screen door combination. Since I don't have one to use and have to make it up, I also have to make the hinge for it.
This last weekend I managed to get all the final wiring connections done on the 12 volt system, installed the backsplash for good, bolted the counter tops down, stained and clear coated the screen door and got it hung and got most of the final connections done on the plumbing. I also vacuumed it out...boy was there a ton of sawdust hidden away in lots of different places. It's finally starting to look like a useable trailer.
I also got the curtains made. This is 1 panel, each window gets 2.
I went to my annual spring campout last weekend and picked up the cushions and the awning for the new trailer. The lady that does the work specializes in vintage trailers. We had 182 teardrop trailers show up with some coming as far away as Mass.. The weather was fantastic, mid 90's and the swimming pool was open which is a first for this campout. We take over the entire place. Events included a pinewood derby contest, cast iron cook off, 1 group actually built a teardrop trailer while we were on site. Volleyball and a wedding rounded out the entertainment. It was good to catch up with friends that I only see maybe once a year.
This last weekend I bought 103" x 45' of aluminum for the siding and the roof on the trailer. It would have been nice to be able to use just a rotary cutter and a ruler, but this takes a circular saw and instead of a mat, a bed of styrofoam to cut on. What made it challenging was the sun and the temperatures. I had a friend help out and by the end of the day I had it all cut into the pieces I needed and the sides hanging on the trailer. Paint colors are all picked out
I managed to get the front and the rear all skinned in the aluminum. Also got the door skinned and hung as well. Now I just need to scuff sand the trailer and get it ready for paint. 3 colors on this one.
This last weekend I finally got some paint on the trailer. I finished hanging the door, and got the cargo door finished. Then scuff saned the entire trailer, masked the windows and primed it and got at least the dark charcoal metallic on it. I now need to get some more time on the paint and I can mask it off for the accent stripe that will be a silver metallic. It seems to take forever to paint something like this, but I only have a garage to do it in. It would be nice to have plenty of light and ventilation to do this work. I've heard that if you can read the numbers off a dollar bill in the reflection, that it's not that bad of a paint job. It's what I can do given the garage. I just hope it's not stripey as I can't get it out of the garage to check it out in the daylight yet.
I finally got some of the yellow paint on it. It takes a lot of time to get them all striped off and painted. I've got at least 3 large bags of left over masking tape and paper from the process. This weekend I'll get some of the top done, get the colors all pin striped off and the graphics that go on the side for the trailer name. It's called the Kamp King.
I also managed to find a vintage gas stove that originally was in a trailer. It's about 1950 in age. It had a rusted up black top, but the porcelain on the front was perfect. I sanded it down and sprayed it with an engine block enamel. That way, I got the yellow I wanted and it will be resistant to heat. All my trailers get a custom stove. This one will probably be used outdoors as I don't care to do any serious cooking in a small trailer.
I apologize to those of you that have been following this build. It's been a busy fall, and after I realized that I wasn't going to make my commitment date on this trailer, sort of blew off working on it. Besides, I can only handle so much hot weather in the garage.
As of this last weekend, it is finished with the exception of 3 clearance lights on the 1 side and a paint touch up. I won't be taking it out of the garage till this next spring as it has no axle or springs under it right now. I had to do that to get it out the garage door as it is too tall. I will also have it down at the shop in the spring for a "open house" type of thing so those of you that wish to can take a tour. It will be a fun trailer and I can't wait for it's maiden voyage! It's name.....Kamp King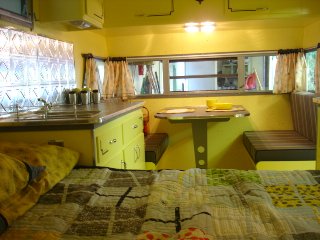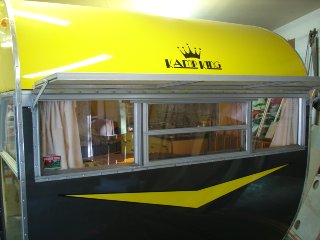 Here's the maiden voyage picture. A group of us went up to Fallen Leaf Lake. We had maybe 60 vintage trailers. It sleeps really well, nice comfortable bed and plenty of room. I'm a happy camper with it!